This Most Beautiful World: full of greed and corruption
It's beautiful in our little side garden, but outside that rustic fence corruption fills the big society we call Australia. As always, all things remain, the natural world is always there with the winds and the sun rising each day. And also greed and stupidity spreading like viral infections through the human realm, poisoning us all.
Blue sky soars from one horizon to the next, pouring sun into the garden where magpies and green parrots swoop and sing. Yesterday a kurrawong watched me from the light pole. Early spring in Australia, the day before a full moon, that moon itself a pale disk high above suburban roofs.
Kids play in the street, on the street itself in fact, locals stroll by with prams or dogs, the guy down the way tries to back his caravan up the lane. It's Sunday and all's well with the world. I'm playing music out the front window, an old aluminium frame that we haven't replaced yet.
The house is half renovated and though comfortable enough would never make it into a magazine. The walls are cracked but the roof keeps us dry and safe. Some floorboards creak but the kitchen is spacious and french doors open onto a paved patio.
Music: The Monkees, Pleasant Valley Sunday and all's well with the world.
But I'm looking at the news feeds as I take a break from the garden and god, why can't I ignore this stuff!? Up in Sydney, Sin City, they're evicting public housing tenants from Millers Point, near The Rocks and the Bridge. It's prime real estate of course right in the heart of Harbour City, and the government wants to "realise market value" on these under-used assets. They trot out all sorts of economic and rationalist arguments but the truth is rich people are dispossessing poor people.
The SMH reported that "All over Millers Point, one of Sydney's oldest and most picturesque precincts, long-time public housing residents were getting the same message" and The Guardian said that "Working-class residents of one of the oldest suburbs in Australia say they're being torn from their homes to make way for the mega-rich. People living in Millers Point public housing, perched on Sydney Harbour, tell what it's like to be removed from terrace houses they have called home for decades" Watch Video here and Read More: The Guardian
One story cited 63-year-old Colin Tooher who "left hospital after recovering from a heart attack. On Wednesday morning, he got a shock almost big enough to put him back there, when wife Terry answered a knock on the door of their modest terrace house at 9 Windmill Street, Millers Point. Two young women from Housing NSW were on the doorstep with a letter informing Mr Tooher that the government-owned house he had occupied from birth would soon be sold and the couple moved to an as-yet unknown destination."
When the properties started to go to auction they fetched multi-million dollar prices. Big profits for some. Eviction for others, namely the residents. Read more: SMH Cowardly Act
Then there's the plan to build aged care facilities on Middle Head which would demolish an "exceptionally rare" collection of buildings called 10 Terminal and replace it with a large monolith aimed at making a fortune out of elderly and dying millionaires. Even PM Abbott's sister opposes this theft of public heritage land. Look at the Headland Preservation Group's Homepage (click the arrows for fullscreen)
But my hometown fares no better - the Napthine Government has leased the historic Point Nepean Quarantine Station to a developer for an exclusive resort and conference complex. Never mind that's it's actually a National Park on an extremely sensitive and fragile piece of land. Never mind the rights of the community and future generations.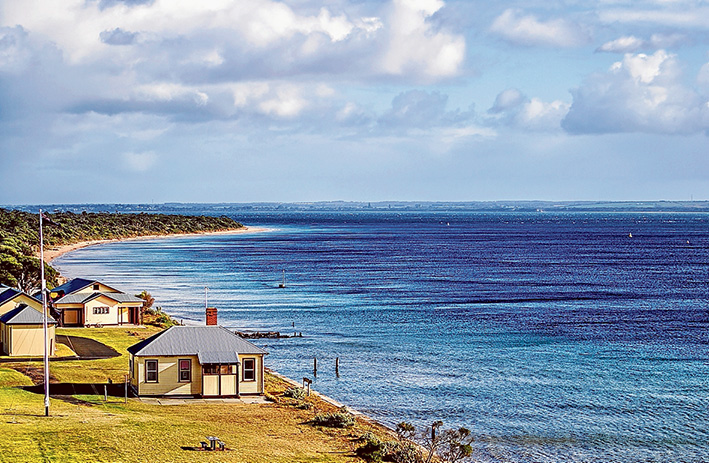 Read the News item here from the original time of writing, although a subsequent State election has reversed that decision as this local newspaper reports. Some semblance of democracy survives.
All this is quite consistent with another news item - the logic of the NSW Government proposing to give businesses in the City of Sydney two votes in Council elections. They are trying to tap into the argument of the American revolution about no taxation without representation. Yet it's a distortion to argue that those who pay more taxes should get more votes. Property franchises disappeared in Australia in lower houses of parliament more than a century ago and from upper houses by the 1960s. Do they really believe that ordinary people deserve less democracy than the rich? See Antony Green - stacking the council and yeah, I guess they do.
Music: The Pretenders. Brass in Pocket. Singing "special, I'm so special."
It dovetails with the Trade Minister's family restaurant on the Pittwater being featured in Government tourism ads. No corruption there, nothing to see, move on now. Read all about it here!
Then the one that takes the cake, right on Remembrance Day - two diggers from West Australia who flew together in RAF Bomber Command have been awarded the French Legion of Honour, and were invited to a Canberra lunch with the Australian and British prime ministers. But they will have to pay their own way across the continent and meet all expenses for the trip!
If you can bear it, more detail here.
Meantime here's a nice song and we're nearly finished: Four strong winds that blow lonely, seven seas that run high
All those things that don't change come what may
If the good times are all gone, and I'm bound for moving on
I'll look for you if I'm ever back this way.
Things remain the same, the natural world is always there with the winds and the sun rising each day. But also greed and stupidity spread like virus infections through the human realm, poisoning us all.
(Originally published Spring 2014)